Draw & Save Him
It's a track full of obstacles.
The only chance you have to reach the end of the chapter is the lines you will draw in time.
Think well in the unblocked adventure game Draw & Save Him and protect your hero from traps just in time.
Have fun!
CONTROLS;
Mouse Left Click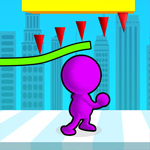 PLAY GAME