Spider Noob
The crazy Noob has watched the Spider-Man movie and is obviously very impressed. Or did the same poisonous spider bite him too? Move through an obstacle-filled track with Noob and collect gold coins. Let the adventure begin!

What is waiting for me when I play Spider Noob?
Spider Noob offers a platform and collection gaming experience with a 2-dimensional pixel look.
A crazy adventure begins with Noob, one of the well-known characters of the Minecraft world. Noob should move on the platform thanks to the nets he throws from his hands. So what is waiting for him on the platform? He has dozens of gold coins to collect. Of course, it won't be easy to collect them all. He has to overcome the obstacles in front of him. A game full of danger is waiting for you with pointed boards on the ground, barbed balls moving up and down, parkour paths standing on the cliff. Enjoy the game. Come on!
Who can play Spider Noob? Is it suitable for children?
Players of all ages who love Minecraft pixel and parkour games can play Spider Noob. This game is suitable for children and is not blocked.
Is the Spider Noob game played at school unblocked?
You can play with friends whether you are alone at home, at school or on the street. If you are at school, don't forget to get permission from your teacher. If you are at home, you will enjoy it much more if you play after finishing your studies. If you are on the street, go to a safe place where you can relax and invite your friends to this unique race.
What does Spider Noob get me?
Strengthens reflexes, increases hand-eye coordination and concentration. It strengthens your ability to make the right movements at the right time with quick movements when necessary.
How to play Spider Noob on web and mobile?
Mouse Left Click.
Can I play Spider Noob online and for free on my computer?
Of course! You can play the game without having to download it. Play the game using your keyboard and mouse. Even playing in full screen mode is much more enjoyable.
Join the adventure with Noob in the parkour game. The right choice for killing time. Have fun!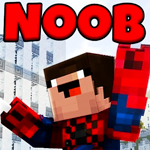 PLAY GAME