Run Rich 3D
A game that will make you question the steps needed to get rich: Run Rich 3D.
Collecting coins is not enough. You should choose the right career.
Will you be able to move forward without straying into the wrong paths that are facing you
Let's play the unblocked game now and start taking the right steps!
CONTROLS;
Click or tap to control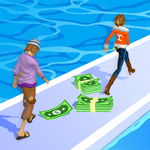 PLAY GAME